Our Services
Quality Control
Mil-STD-45662
Mil-STD-105 sampling plan
All calibration traceable to NIST
In house quality control manual
Traceability of raw stock
The latest in manufacturing and accounting software to assure conformity and traceability of processing steps and materials
Manufacturing Custom Waveguides:
Raw rectangular and double ridge waveguide components, most available from stock and shipped immediately
Microwave engineering consultation for special applications or customer problem solving
State of the art drafting department utilizing SolidWorks & AutoCad Mechanical for all our 2D and 3D modeling needs
Reliable testing of waveguide electrical performance up to 70GHz using a variety of Anritsu brand Vector Network Analyzers (VNA's)
Precision CNC machining for the production of sub-components as required above, or for any other application
Design and development of support fixturing and testing for improved manufacturability of waveguide components and assemblies built to customer specifications utilizing the latest software tools.
Custom waveguide bending
Brazing to Mil-B-7883B
Welding
Finishing – including chemical conversion coating, glass bead blasting, painting, and ink stamping
Ready Access to Qualified Sources of:
Aluminum dip brazing to Mil-B-7883, Type V
Heat Treating
Metal plating to Mil-Spec & most other standards
Environmental testing including vibration/shock, EMI/RFI, humidity, salt-spray and thermal testing.
Space Qualified:
Space Machine & Engineering Corp. has a manufacturing team exclusively dedicated to our flight qualified waveguide systems. Our flight approved waveguide components range from S-Band (WR340) through V‐Band (WR19). We have a well-stocked inventory of high quality thin wall aluminum waveguide and cast bends especially dedicated to our flight waveguide product line (WR19 & WR22 only available in regular wall). Our immense inventory enables us to provide deliverables in as little as three weeks.

Beginning with our precision CNC machining process, our skilled and experienced manufacturing team produces extremely accurate waveguide assemblies which are tested by experienced technical personnel using our state of the art testing and metrology labs. Each assembly we produce undergoes 100% dimensional inspection and electrical testing using one of our vector network analyzers.
Programs:
Direct TV 8
GOES
Hughes‐Jupiter
MSAT
Panamsat 8
SXM 7/8 (Sirius XM 7 & 8)
WVL
RESTORE-L
IS39 (Intelsat 39)
S1D2 (Star One D2)
T19 (Telstar 19 VANTAGE)
JUPITER 3
Utilizing either our in‐house capabilities or one of our NADCAP certified vendors, Space Machine & Engineering Corp. has the capability to fabricate the most intricate, demanding, and complex waveguide assemblies for your satellite needs. Our manufacturing team is dedicated to providing high quality products that exceed the needs and expectations of our customer. Additionaly, we do it at a reasonable price and on-time delivery.
"Final inspection completed on of 39 waveguide assemblies for the ABS‐2 and OPTUS programs. The product presented was of extreme high quality. SME's commitment to providing flawless parts was evident. All process paperwork was complete and error free. All parts were accepted." – Joe Tolland, MAXAR
On-Site Waveguide Installation & Testing:
Waveguides require great care and precision in handling and installation. Our team is here to help with your on-site installation needs. Space Machine has extensive experience installing waveguide for radar systems in both ground and ship applications.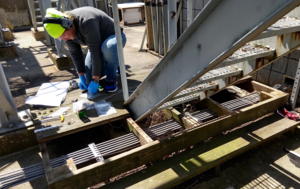 Our engineering team also has experience providing full custom waveguide mounting solutions including using cable trays, custom clamps and feedthroughs through walls.
Additionally, Space Machine provides onsite waveguide testing services including full-system RF testing and dent tuning. We also pressure leak test waveguide assemblies using compressed air or nitrogen.
Please contact us to receive more information on how we can help with your specific application.